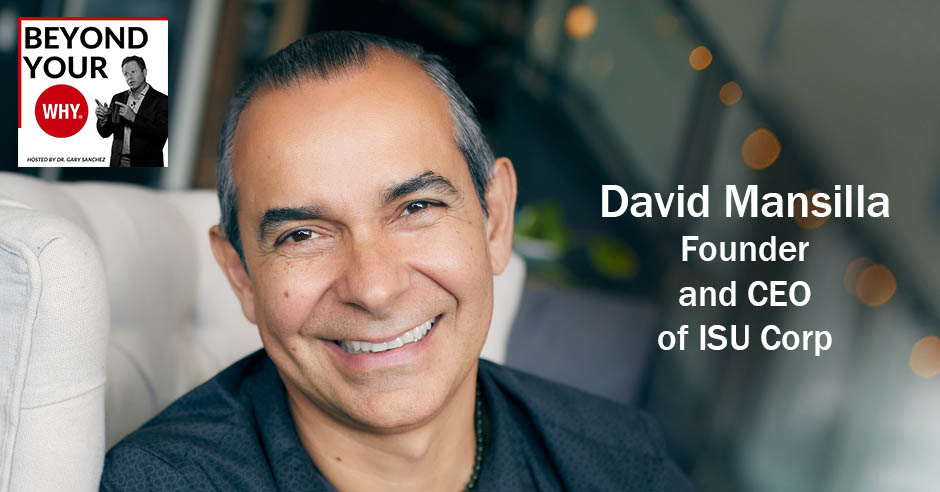 Whether we're at our highest highs or lowest lows, we can always find lessons that will help not only our journeys but also others. This episode's guest is especially passionate about extending his success to others, using his experiences to guide entrepreneurs to reach their full potential. Rightly so, because he moves through life with the WHY of Contribute. Joining Dr. Gary Sanchez is David Mansilla, the founder and CEO of ISU Corp, a custom software solutions company with clients ranging from start-ups to multi-million-dollar conglomerates. In this conversation, he shares with us his story from software consultant to starting his own company, bootstrapping, and growing it. David's success was never without its own challenges, though. He almost went bankrupt multiple times. But this experience taught him the importance of his why. Tune in as David tells us more about the lessons he learned in his journey, not only to find success but also fulfillment.
—
Watch the episode here
Listen to the podcast here
The WHY Of Contribute: Why Life Is Not About You With David Mansilla
I have a fascinating interview for you. His name is David Mansilla. He owns ISU Corp, which is a high-tech IT company. We don't talk much about IT. We dive more into his life, which is fascinating, the very high highs and the very low lows, the cycle that he goes through throughout the years, what he learned on that journey of being at the top of the mountain and being at the bottom of the valley, and where he is now. You are going to find it fascinating. There will be a lot of great takeaways for you and things that you can use in your own life. I'm excited for you to hear about David Mansilla.
—
In this episode, we are going to be talking about the why of contribute, to contribute to a greater cause, add value, and have an impact on the lives of others. If this is your why, then you want to be part of a greater cause, something that is bigger than yourself. You don't necessarily have to be the face of the cause, but you want to contribute in a meaningful way.
You love to support others and you relish the success that contributes to the greater good of the team. You see group victories as personal victories. You are often behind the scenes looking for ways to make the world better. You make a reliable and committed teammate and you often act as the glue that holds everyone else together. You use your time, money, energy, resources, and connections to add value to other people and organizations.
I have got a great guest for you. His name is David Mansilla. He is the Founder and CEO of ISU Corp, a custom software solutions company with clients ranging from startups to multimillion-dollar conglomerates like General Electric and Hines. It is located in Canada's Silicon Valley. ISU Corp increases entrepreneurs' net profits with exceptional custom software solutions.
They have been granted many awards such as the Best Innovative High-Tech Enterprise Software Company of the Year from Global 100 and ACQ-5's Game-changer of the Year. David is passionate about inspiring others. A priority in his life is sharing his experiences in hopes of encouraging a new generation of entrepreneurs to reach their full potential.
David is the host of the Break Free Podcast where he invites a diverse set of guests to bring audiences valuable knowledge on living on their own terms, whether it's professionally or personally. David is also a number one international bestselling author for his book, Breaking Out of Corporate Jail. David, welcome to the show.
Thank you for having me. It's a pleasure to be here.
This is going to be great. David, where are you and where are you from?
I live in Toronto, Canada. I have been there for many years. I was born in Guatemala, which is a country in Central America, but South to Mexico. If you position yourself in Central America North border to Mexico on the North.
What was it like for you growing up in Guatemala? How long were you there, and then when did you move out of Guatemala?
I was there for nineteen years. It was a very tough childhood. The country was in the middle of a 36-year-old war. In small countries is where the Cold War was fact. It was capitalism against communism, and thank God capitalism won in Guatemala, but it was a horrible war. The city wasn't as bad as the countryside, but it wasn't uncommon to see houses getting bombed with a tank and people getting shot on the streets by different groups, either by the guerrillas or by the army. That's how I grew up.
I'm living in the US. I can't even imagine that. How old were you when all of that was going on?
I was born in 1972. The war started in the mid-'60s. You know the Missile Crisis. When was the Cuban Missile Crisis? That's when everything got hot in Latin America after that crisis, but I was a baby. My dad used to take me to the school that I was in. It was a Catholic school that was attached to the cathedral, the main church in the whole country, and it's beside this national palace because it's a Spanish country.
There is a national square, and then you have the palace on the side, you have the cathedral on the side. You have one of the best Catholic schools in the country, and so I was there. My dad had to come and pick me up at least three times when war broke out in the palace. Under bullets, we have to escape. By then, I was 10 or 11 years old.
How did having a war going on affect your schooling, your childhood, and your ability to have sports? What was it like growing up at that time?
Tough, but you are a kid and your parents tend to shield you from what's going on. Honestly, if you ask me, I didn't think I had it that bad until I went back and realized that it was pretty bad. To give you an idea, my older brother died in the war. He was a volunteer firefighter. He saw something he shouldn't see. He told us about it, and a week later, he disappeared. Since then, he never showed up again. My dad looked for him for years. My dad had good friends in the Army, so they were flying with helicopters all over the country, and we could never find him. It was real.
Did you have sporting events?
It was normal. Like I said, most of the heavy fighting was in the mountains. Sometimes the guerrillas will have little cells that will bring chaos to the city, but that was the exception. Usually, it was in the mountains. That's what the heavy fighting was.
What were you like in high school? Were you into sports, acting, or computer? What were you like?
Since my brother disappeared, my dad encouraged me to join a military school to become an official in the Army. I went to military school for two years. I wanted to become a firefighter for the army. I didn't care about the Army. I wanted to become an airplane pilot. That was my desire. My dad took advantage and said, "It's better to be a trained official than getting killed as your brother got killed with no training."
I joined the Army for two years, and that gave me amazing skills and incredible insight into discipline. My teenage years were marked by my military training. I thank God for that because I attribute most of my success in life thanks to that discipline. It's funny. When you come to a country like this like Guatemala, even in this modern age where there is a rule of law and democracy, it has been here for many years.
Schools are more disciplined than North American schools. Kids cannot wear long hair and they have to wear a uniform, and it's good. I see the difference. If you don't teach kids discipline, you are getting them a tougher life. When they become adults, their life is ten times tough because they don't know how to go through something that they don't want to do, but they have to do. Isn't life like that?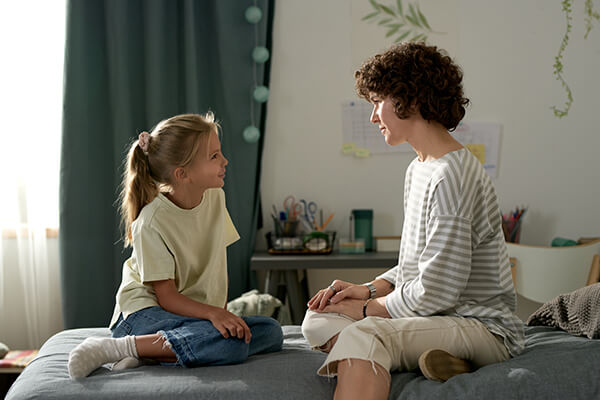 I agree with you. That's a good point. You have gotten to see both sides. You graduate from high school in Guatemala. Did you stay in Guatemala or did you leave after that?
While I was in military school, back then, to graduate, you had to pass this crazy typewriting exam, and I could never pass it. I wasn't fast enough. Every time I did a mistake, I had to start the page all over again. I was so frustrated. By then, my dad had already bought a computer, an Apple IIe, believe it or not. It was an Apple that was text-based without a mouse. People don't even know that they existed, but my dad had one of those. My uncle was a Senior VP of the computer department for a large bank in the country. At a family gathering, I was explaining how frustrated I was with this typewriter.
My uncle told me to come to his office during the week. I went to his office and he showed me how he was using a text editor in a mainframe computer and how he could make mistakes and push a button and print the letter. I'm like, "This is incredible. I want this." That was the beginning of me falling in love with Computer Science.
Right after military school, my dad put me in the best computer science school in town, which turned out to be the best Math and Physics school in town, and that's how I got my first Computer Science degree. As soon as I graduated from that, in that school I met my wife who became my sweetheart. We got married, got a kid, and moved to Canada when I was in my early twenties.
Why Canada?
I wanted to continue my schooling. My brother had come to Canada already for his degree in Commerce and Business. It's funny because I'm in Canadian Technology Triangle, and this is where the best Computer Science universities in the country are. It happens also that our version of Harvard Business School is also in this town. My brother went to that university. I landed there and had three of the best universities in the whole country for Computer Science, so I did my second degree there.
Now, you are done with your Computer Science degree. Now, what happens to you?
I thought I was going to start my own business right after college. I'm like, "I'm going to become a software consultant." I always fell in love with software automation since I started learning how to write software. In Guatemala, before I came, I was hired to build a payroll system. We are talking about 1988 to 1989. My best friend from university and I wrote a payroll system. They put it in production and they automated it. Running payroll by hand for 300 employees took a week. We made it in four hours. That was the first thing that I did professionally as a computer scientist.
Right after graduating in Canada, I thought I could do my own business. This is 1995 or 1994, the Canadian government saw the internet coming as something new. They had a problem for technologists that were graduating to give them a Canadian-backed loan from one of the banks to promote people to start their own businesses.
I took advantage, I applied, and they gave me a one-year fast-forward MBA paid by the government. After graduating from that program, I got a loan and almost went bankrupt two years after that. I spent the whole loan plus thousands of dollars on my credit card. My wife was sustaining the home. I had two kids back then. I was like, "I have to do something."
Nobody will trust me with computer software. I turned to creating computers. I started assembling computers. We were doing pretty well until it started to go bad when I had to respect all the warranties. I was making a 5% profit, but then after a year, people will come back, and with one little change, the whole profit will go away, even though I was selling thousands of computers. Little did I know though that my company had a reputation because I had a lot of clients.
One time, a student that was working for me in the summer fell in love with the business and his dad was a very wealthy man. Out of the blue, I wasn't even thinking of selling. I was thinking of closing. His dad came and said, "I want to buy your business. How much do you want for it?" I gave him the exact amount that I owed. I said, "I just want the government money and I want my credit cards paid off." I gave him the whole number. He brought his checkbook and says, "Are you sure?" I'm like, "Yes, I'm sure," and he wrote me the check.
Years later, after I became a businessman, I realized that I sold that business for a fifth of what it was worth just because of the reputation of the client base, but it saved me. It saved me because I was clean and I was able to get a job. It's funny because I started looking for a job in 1996. It wasn't easy for a computer scientist yet because the internet was starting up. I remember having to send about 200 to 300 resumes by snail mail. I got five job interviews in three months, and out of those five, I got one job as a computer analyst.
What did a computer analyst do in 1995 or 1996?
I was writing software as a coder. I was writing applications for the Board of Education. I had in charge of 2,000 teachers for the entire school board, and I was writing software automation for them to have classes better instructed. I was also supporting the staff of the school administrations. We had a bunch of schools. I think over 200 schools or something like that. I was writing software for them.
You did that for how long?
I was there for two years. Funny enough, my desire to become a software consultant came through three months after I got my first full-time job. Throughout this whole thing, my older brother became my client. He was the only one that trusted me. He had a chain of stores, and I wrote a point-of-sale system for him. He's the only one that trusted me, but I left little signs on all his stores that I wrote this software that was running the invoicing.
Three months in, I get a call from a guy in the town nearby. He was building this massive warehouse with a storefront and needed a custom-made point-of-sale system. I had to go back to my director and talk to HR to see if they could change the contract, and they allowed me to work on my business part-time after work. From 5:00 PM forward, I could do whatever I wanted with my own business because it wasn't competing with what I was doing during the day. I landed that contract, and it lasted for eight years. I was consulting part-time after work for eight years with this large store.
When did you start your own?
From that job, I started moving into larger corporations. The boss of my boss moved to the largest telecommunications company in the country, and I got a job as a leader already. I grew in the corporate lot quickly while maintaining my little tiny consulting gig part-time until finally, I was talking with my wife.
The idea was we were both very cautious about trying out our business again because it was super hard. Those two years were horrible. Horrible in the sense of not having enough money. Talk about being scared of not having enough money to pay the rent for the house the next month. We never wanted to go through that again.
Our plan was that my wife will come back to university. She will get a stable job with benefits, and that will allow me to risk it again. The plan happened, and she graduated in Computer Science. She was a developer too. She got a job as a database analyst for a large company. My kids were a little bit older too, so with that, I decided full-time business in 2005.
What was that business?
ISU Corp. The same one that I have now.
ISU Corp started in 2005, and who was your first client?
That was tough. I was blessed. I didn't have any clients lined up, but I decided to quit like didn't care because I knew I could do this. Now I had the business acumen. I knew how to work the corporate ladder and how to play corporate politics. In the beginning, I started looking for a gig, and somebody trusted me with my experience.
They hired me as a single consultant who embedded software for MFP. MFPs are called this large photocopiers that have a computer embedded and you can put on those computers to do multiple things. I wrote software for the Sharp machine. They had thousands of those machines in the corporate connected through the internet already. I was automating their enterprise software. The contract was for two months, and it lasted six months. I started by myself, and in three months, I had two people working for me already in my own business because we grew the contract because I proved to them that I could do it.
Then you kept adding businesses to ISU Corp.
It kept growing and growing. I'm scared to death about the money part. I never spent a penny from the income that I was making. I was building the bank account. I didn't borrow a penny to open the second business because it went so badly with the loan. I said this is going to be bootstrapped. The $500 that I got to do my own registration in the government back then, that's how much you pay. I didn't even hire a lawyer at the beginning.
I went and fill up the funds myself as simple as I could. That $500 was for my consulting gig already. I never raised money anymore. The first year, I never spent a penny. The money was accumulated. It was beautiful because, in six months, I did a whole year's salary as a Senior Vice President of a large company as consulting firm. I was so scared that we were living with my wife's salary, but that helped me because I learned how to build a cashflow in the business so that during the downturns, you could leave off the cashflow without having to go and get funding or get a loan or anything like that.
What do you think was the secret to being able to make it this time bootstrapping it versus what you did the first time?
Experience and the support of my lovely wife because she did that first time. The second time, she told me, "You have five years. If in five years you don't retire me, you have to go get a job." Exactly in five years, I hired her back, so she came back as a Director of HR with a much less stressful job.
What's ISU like now? Give us a picture of what it's like now. How many people do you have working with you? You are outsourcing to different parts of the world and are all over the place now. What's it like now?
We have 60 full-time senior engineers and expand our network up to 200 to 300 people depending on the client. We do tend to work for larger clients. We call it the SWAT team. We start with a small high-end team that is full-time employees, and then if the company requires us to expand and grow, we have partners where we can grow. That's how we are in the business, but it hasn't been easy. I have almost been bankrupt 3 or 4 times. It's been most of the time when I get to the point of bankruptcy because I get greedy and I lose my why. I love your heart. Once your why is lost, once you just focus on the money or personal gain, that's the beginning of the end. It took me a while for me to learn that lesson.
Once your why is lost, once you just focus on the money or personal gain, that's the beginning of the end.
Click To Tweet
Give us an example of what you mean when you lose your why and focus. When was the time that you lost your focus and how that played out for you? That could happen to all of us and any of us could go through that exact same thing. What happened and how did you get out of it?
It's greed. I had never been a greedy person until that time, but when you see your bank account getting larger and power through money, you want more, and then you start comparing yourself with other entrepreneurs that have more than you and you want to become like them. It becomes all about a money game, and you forget your employees and clients. All you want to do is increase your bank account and get as much money as you can so you could feel better than other people.
For me, it happened from 2009 to 2011. 2009, I was about 8 or 7 people, and from 2009 to 2011, we grew to 110 or 120. It was fast growth. We became an eight-figure company really fast, and my mind became my partner, but I was working sixteen hours a day and I forgot my family. I was traveling overseas every 2 to 3 weeks. It was all money-oriented. I remember going to the bank. Back then, you still had checks. We were depositing $500,000 checks every two weeks or every week and a half. The more money I gathered, the better I felt better than anybody else. Greed gives you ego and gives you false confidence.
I was overworking myself. I was using alcohol to cope with the stress. One day, my heart told my brain, "I don't want to play this game anymore. You are crazy," and I had a heart attack. That's how I woke up out of that. I thank God for that because if that wouldn't happen, God knows what person I would have been now. Probably my net worth would have been five times as it is now, but I will be a lonely, miserable, and rich person.
Do you know who was my best psychologist? My doctor. I was 39 or 40 years old back then. When she saw me, she was like, "Your hair is falling off." I had patches of hair, falling hair all over my head. I had bruises on my tongue from distress. She said, "You are killing yourself. What is it worth the money if you are not going to have the health to enjoy it or your family to enjoy it? I can give you these pills, these opioids. They will allow you to cope with the stress so you can keep the same lifestyle, but my advice is to change your lifestyle. You could get addicted within three months if you have these pills."
That was like a cold shower. I felt like God gave me a cold shower saying, "What are you doing with your life? You are killing yourself." The next week, I apologized to my wife and kids. I haven't seen them for two years. I took a plane to Atlanta where my partner was and told him I went out and left 95% of the business to him. I left everything. I told him, "I need to go out. You take everything."
I was left with five employees again, and 95% of my income was gone like this. Felix is my VP of Operations and one of my best friends. He's my best friend. I told him, "I need to take a break. I need to reconcile with my wife. I will leave you the business. I know that we don't have enough income to sustain even the five people that we are. We cannot even pay the rent, but we are smart people. We can all get jobs if we go under."
I told my wife, "Get me out of Canada to a place as far as you can find and make sure the kids come with us." She took these kids out of school and we went to Thailand for a month. It was the first time I didn't have any plans to come back until I got healed. The doctor also told me to follow a sport that allowed me to breathe because I was having panic attacks all the time. The one panic attack is the one that gave me a heart attack. I was talking on the highway for three hours. I saw helicopters bringing people from three accidents on the ice storm. That's when I realized I was killing myself for nothing. The panic attack became a heart attack. I decided to learn how to scuba dive.
After you are working sixteen hours a day, it's all intensive. You cannot stay watching the palm trees. I went there. I got the blessing from my wife and got into a scuba diving course. Thank God it was May, so it was a very low season in Thailand. My diving instructor only had me as a student. He gave me 3 courses in 1. I was diving five times a day. I was living at 7:00 AM coming back at 6:00 PM every day for two weeks. It was beautiful because I learned how to breathe. I learned how to control my panic attacks through breathwork. I took the pills for a week and I never took them again. It was beautiful.
I never checked my email during that month. When I felt a little bit better, when I felt like, "I was monitored by my kids and my wife," then I said, "It's time to go back home." I turned on my computer. I had thousands of emails. All I did was sort emails by name and noticed that one of my old friends was emailing me 150 times.
I finally phoned him. I was in Bali, Indonesia, because we were moving. He said, "What's up? I got this VP of IT from this company and they are going nowhere. We have lost millions of dollars on this software project. I know you can help me." To make the lost story short, I talked to the CEO the next day and signed a $1 million contract with this lady two days later. When I landed in Canada, we had a business again. It is just like that.
How were you able then to not overwork or not get back into the sustained rat race, or did you get back into the same place?
I didn't. My learning didn't finish then. Me selling that $1 million contract, even though it was nothing to do with me, it was God giving me another opportunity. I evaluated my business partner, client, and employees. Everybody was at fault. I was the good guy. The contract lasted about a year and a half. I was able to gather other contracts, but I kept working the same hours. After six months, I started abusing alcohol again.
I never became an alcoholic. Thank God because I don't have an addicted personality, but I was drinking a bottle of wine a day. One glass of wine after dinner became a bottle. I didn't have problems with my heart anymore because it wasn't as bad as before. By December 2012, I looked at myself in the mirror and I was 40 pounds overweight. I was losing my hair again.
Not normal hair loss from age. I had holes in my scalp. It was a self-wake-up. It's like, "Again? What are you doing?" I remember December 27th, 2012, I decided to quit drinking and to quit what I was doing. I quit my own job. I called Felix again, "You are not going to see me for one year. I need to fix myself again. This time I know what to do, but I know I can discipline myself."
I joined a gym membership on January 6th, 2013, the first day of the gym. I joined a three-month transformation program with Kris Gethin, a famous online trainer. I went from 200 pounds to 159. Again, the discipline. I discipline myself to do the exercise. It was supposed to be one hour a day. I was doing four hours a day at the gym all-in.
I'm eating super clean seven meals a day. I couldn't transform my body, but most importantly, I was transforming my soul. My mind and my emotions were getting transformed. I started to listen to spiritual leaders online and also to business leaders. Instead of working sixteen hours a day, I was working ten hours a week. I was still working.
Also, I joined the leadership course. I realized that I wasn't a good leader. The business was 110. It went back to 5 or 6 people, then I grew to 20 people with that big contract, and then back to 5 people again. I realized that I was attracting the people that I was, a greedy self-pity person. I changed myself. I got the leadership course and changed my life. It was incredible.
2013 was a year of change. It was the only year that I lost money in the business after eighteen years, and it was okay. I needed to lose that money to recover. 2014 came, and I changed the business to a lifestyle business. I divorced myself from greed. I wanted to focus on culture. That's what changed everything. I focused on my people. "How do I add value to my employees so that they add value to my clients?" I read every book I could on culture and I dedicated myself to my family. I also read The 4-Hour Workweek book. I never went back to working sixteen hours a day. I was working maybe 20 to 25 hours a week. That happened from 2014 to 2017. I repeated that trip five years in a row.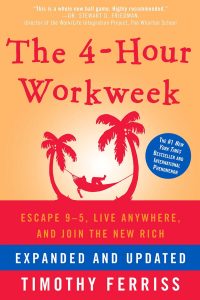 I will take my kids out of school in January and will come back in April and May after the winter was over. It was beautiful. I didn't make a lot of money. All I wanted is to grow the business 5% per year because I knew that if you don't grow, you shrink. I was growing 15% to 20% per year. I stopped selling and marketing. It was word of mouth.
The company kept growing, and I was having this beautiful lifestyle business, but there was a problem. After five years in 2017, I got bored. My kids grew out of the house. They went to university. We talked with my wife again. "Either we retire fully or we grow the business." She told me that, and I said, "I don't know how to grow the business. The last time I tried, I almost died literally."
That's when I joined Vistage. That was the first business group that I joined. I had a business coach, and now it was more systematic. I started growing and growing again just to fall into the same trap in 2021. Isn't it crazy? In this case, 2021, it was the pandemic too. The business has been very stable growing systematically.
I never lost the part of the culture and adding value to my clients. That's been great, but what I lost is focusing on everybody else. I started to focus on myself again. I started feeling myself better than everybody else, especially when my net worth grew after eight figures. I'm like, "I'm this millionaire. Very few people get to this number," and I started getting egocentric again.
I kept my culture beautiful and my clients delighted, but I became my own God. The ones who suffered were my wife and my kids the most. 2022 wasn't a financially ruined year. I made a lot of money, but I was spiritually ruined to the point that I almost lose what I love the most, which is my family, but I woke up again.
What a rollercoaster ride. We all go on it. All of us, the ups and downs, but you have had some real big highs and some real big lows. Your wife probably almost doesn't want you to have success.
She realizes that the money was what made me proud again, but we are believers. We were believing in Jesus Christ as our Lord and Savior. I move away from my faith for all those years from 2020 to 2022. To give an idea, I joined a new age cult, and we start with loving everybody with multiple gods down to doing witchcraft and using pendulums to detect your future and stupid superstitions like the horoscope, for example.
After being a computer scientist with two degrees and having done all this, I fell into that stupidity. My wife should have let me go like ten times over, but she's so lovely. What she did is she started praying for me. Her mom and my kids started praying for me and her whole network. I had at least 100 people praying for me. I woke up one day and realized that what I was doing was wrong. I asked for forgiveness.
We split for two months last 2022 and thought it was over, but I came back to my faith. I came back to God. I repented again. 2023 has been beautiful. It's been a year of healing and recovery. It's funny because we decided to read the Bible again, which is one of the things that I stopped doing for many years, and God gave us Psalm 23. January 1st, we opened the Bible and we got Psalm 23. We read it and it's like, "This is our song. I have it in my heart."
It's a very famous song because it talks about, "The Lord is my shepherd. He makes me lie down in green pastures. He takes me to calm waters. He straightens my ways. Even though I walk in through the shadows of the valley of death, I will fear no evil because you are with me." It's beautiful, and it's been our theme the whole year. Now we are on this beautiful path where all we want to do is give back and give an example of what happened to us.
I'm so blessed that the business keeps running. Thanks to the networks that I belong to like strategic coach Dan Sullivan. In the last few years, I already made the business to the point that it's a self-managing company now, which allows me to run other businesses. I have been blessed to have multiple businesses that I can run, but I don't do it for the money anymore. My wife makes sure I keep humble. No more pride.
One thing happened. The miracle in all this is realizing that I had ADHD. I had ADHD since I was a kid, and in November, I got diagnosed by three different doctors. When that happened, then everything made sense. My extreme behavior, my compulsive behavior of excessive business traveling, and my success too. It's a superpower if you use it the right way, but if you don't know that you have it, you can also use that to become proud and arrogant and to destroy your family, which is what I was doing in the end.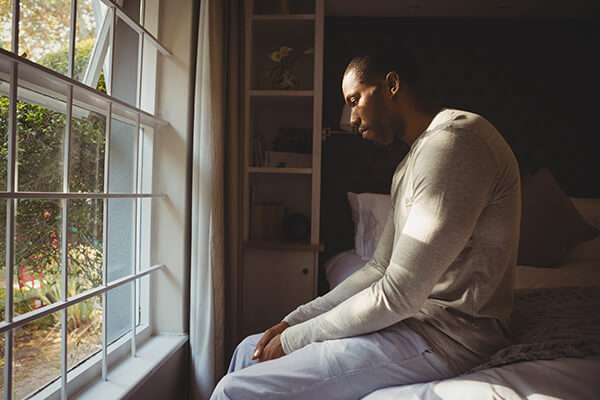 How did knowing you had ADHD help you?
That's what got used to wake me up. I was so blessed. I had one of the best psychoanalysts in the country. Listen to this. This guy has been practicing psychoanalysis for 40 years. He is a doctor in psychology with clinical psychology with a specialization in analytical psychology, brain functions, and neurotransmitters. He took me in. I was his last patient. He's the one that told me, "You are heavy on ADHD," and he had ADHD. That's why he became a psychologist. He gave me all the strategies to live life in a beautiful way. He's the one that told me how to bring my wife back.
When I was away for two months, he was the one that told me, "Do you know about the three horsemen of the apocalypse of the marriage?" I'm like, "No. What's that?" "You blame, you defend, and you hide. If you keep doing those three things, you will never get your wife back. Stop that." The minute that I stopped that, my wife was able to talk to me and I was able to understand. He gave me strategies to deal with the condition that I have, and then he passed away. I started seeing him in September. My breakthrough was in November. He passed away in January. Isn't that crazy?
What's next for you? You got back with your wife and then you guys continued with ISU. Were you continuing to build it, or are you trying to keep it? What's next on your agenda?
We have a five-year plan to sell it or give it to our employees. We created this plan where we gave shares to everybody. For everybody who has been in the company for over two years and deserves it, they got shares. The idea is either we tire our people or we give them the company and they keep growing it. It was a five-year plan. We want to grow in a way that we can hit $100 million. It is not about the money anymore at all. Most of those profits will go back to helping others in need, and I'm not that involved anymore. I spend my time doing the Break Free Podcast and writing. I'm on my third book now. I open a brand-new podcast called Leaders in Tech.
What I'm doing is I'm acknowledging the leaders that are helping companies grow by multiples. I'm making this world a better place, but nobody's talking about them. Nobody's talking about the CTO, CIO, and VP of technology and how they are impacting businesses. I'm going to be talking with senior VPs of Nokia and Disney. I have a senior VP of big hospitals like Bishop Hospital in Orlando. It's fun. My whole life now is giving back and sharing my story. If I can save somebody a couple of years of deep pain, it makes my life worth it. That's my why now. It's giving back and raising the flag of ADHD and how to manage it for your own good.
For those that are reading that know more about the WHY.os. Your why is contribute to a greater cause. How you do that is by finding the right way to get results, and what you ultimately bring is a trusting relationship. I'm curious about how did that work for you when you weren't being "trustworthy" to your people, family, and kids. How did that work and play out for you in your own head?
When you are on your game and you are helping people by finding the right way to get results and being that trusted source, being that one that they can count on, you are on your game. Things are great for you. When you went down the ADHD route, and you started doing things that didn't allow them to trust you and didn't allow them to look up to you, how did that play out for you?
Horrible because I changed my why in the wrong way. This is the common denominator. If you look at the pattern in my life, everything became about me. Everything started to fall off. It's funny because it doesn't matter how much success you gain in life. If you are doing it for yourself, you will never be completely fulfilled. You always stay empty.
It doesn't matter how much success you gain in life. If you are doing it for yourself, you will never be completely fulfilled. You always stay empty.
Click To Tweet
I remember reaching the next million dollars and thinking, "Now I'm going to be happy," and then it just became another number on a computer. You don't even see the money. You have it invested. Maybe we have a real estate portfolio, and it's beautiful. It gives you a beautiful passive income, but at the end of the day, if you are doing it for yourself and your own comfort and you don't think of others, you never get fulfilled.
When I was doing it for my people, I wanted to get my people in a better position in the world. When I focused on them having the right feelings and producing the right emotions and the right attitudes, when I saw the benefits that I was giving my clients with the software I was building for them, and when I only thought about them and how I can benefit them and how I can grow their own profits, it's beautiful, and then you get fulfilled.
The funny part is that when you do that, you get more. It's inevitable. You know the Law of Gravity. There is another law that says what you give is what you receive, and it doesn't matter what you give. You will always get it back like a boomerang, and you get it back increased. When you give greed, you receive greed and increase in greed. You receive horrible people and stress.
When you mean that you want your client to prosper in what you are doing for them, then you prosper with them. When you mean that your own employees are growing their careers and they have more time for their families and have a better lifestyle because of you, you get a better lifestyle. It's incredible, but that's how it works and then you get fulfillment.
There is no worst failure than being filthy rich and being empty in your heart because there is no money, success, or fame in the world that can fill that. That can only be filled by God, and he does it by you serving others unconditionally, by you thinking of others, and by you making this world a better place. If you read the Bible, what Jesus said is to take care of the poor. Take care of the homeless, widows, orphans, and drug addicts. Take care of them unconditionally. Start doing that and see how your life changes around. It's beautiful.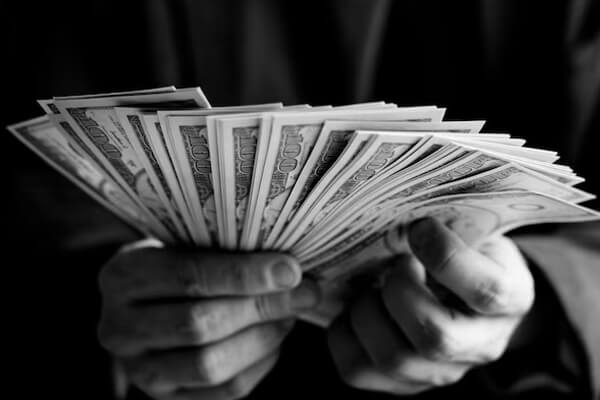 You have hit both sides of it. You have been on the top and you have been on the bottom so you get to see both, and that's a big part of your story. I had no idea when we were going to have you on the show that this is the direction we were going to go. I thought we were going to be talking about software. I'm glad we got to learn more and go deeper with you because it's super valuable. It's way more valuable than anything you could have taught us about software. Thank you so much for sharing your story.
My pleasure. I live for this now. Whenever I can add value, if there is one person that reads this show and avoids making their own choice in their life and they get joy and peace, that's what we are looking for. We are looking for sustainable joy and peace, not necessarily avoiding suffering. Suffering and pain are unavoidable because you live in a world where anybody can crash in front of your car for a mistake that you didn't expect and then you are going to be in the hospital probably.
What I have learned is that you can keep your joy and your peace regardless of what's going on in your life, and that's what I'm experiencing now finally. 2022 was horrible. I woke up from this terrible cult that I was in. I woke up in July. That's when my eyes got up, and when I did research, I didn't even know what New Age was. Unfortunately, I did a lot of psychedelics and stuff like that. That's what they do and those rituals. I developed acute pancreatitis. I developed anemia because I never ingested drugs before in my life. It was all psychedelic, and they are so popular now, all that stuff. If you start doing that without a prescription or without a clinical doctor prescribing you that stuff, you start doing it for spiritual reasons. I got lost, but now I'm here, like the story of the prodigal son.
If there are people that are reading and they want to follow you, they want to hear more from you, they want to see what you are up to, and they want to learn more about ISU Corp, what's the best way for somebody to get in touch with you?
You can go to DavidMansilla.com. All my podcasts are there. They can read my story and buy my book. My life story that is there until 2014. This new stuff is another book, but they can also go to ISUCorp.ca if they want our services. We are growing exponentially. We are hiring people now, especially now that I have everything in place.
If you want to run a software project where you are going to be considered top your need first, not our need, come to us. Believe that our last project is our best project, and it's the only project that matters. My last client finds new clients because they get delighted with us and they are going to get my employees, which are delighted with us because they have a beautiful lifestyle too. Everybody wins.
Last question. What's the best piece of advice you have ever been given or the best piece of advice you have ever given?
Life is not about you. It seems the opposite, but it's not. When you make life about you, you lose your life, but when you give your life away, you gain it. It's contradictory, isn't it? If you think about it, if you don't make your life about you, life happens, and it happens beautifully. It's not about us.
When you make life about you, you lose your life, but when you give your life away, you gain it.
Click To Tweet
I had a gentleman on the show who was a gastroenterologist. He was a doctor, and his life was so much about his two daughters that he has. When they grew up and left, he felt lost and said something similar to what you were talking about. He said he meditated for three days. He was lost. He has your same why. It occurred to him during that time. He said, "The joy is in the giving. That's where you get your joy. It's not in all the stuff I have. It's in the giving that you receive joy."
What money gives you is comfort, and comfort is nice. Don't get me wrong. Going on a private plane, sure it's first-class and nice, but that doesn't make you happier or fulfill you. It gives you little moments of comfort, but if you are willing to live without that comfort and you are willing to focus on helping somebody else, the level of hardship that you can sustain grows so much that nothing touches you.
I feel almost like I have a shield right now where the enemy can throw any darts that he wants and it's going to melt away. The level of suffering that I was able to sustain and that got me out of is so deep. When you go to hell and you get rescued from hell, nothing scares you anymore. I'm not afraid anymore. I don't have anxiety anymore.
I call them demons, all those psychological problems. A demon is a thought that torments you because it gives you bad emotions and you cannot do anything to stop it. That's why people get addicted. White people get addicted. They are not getting addicted because they are bad people. They are in so much pain from their suffering, from these tormenting thoughts that they take something that numbs their brain and their body to get some relief.
Thank you so much for being here and sharing your story. It is totally fascinating. I'm fascinated with it. I appreciate you being here and spending time with us. I'm sure we are going to be in touch with each other.
Thank you so much. Anytime.
—
It's time for our new segment, Guess Their Why. I want to talk about Oprah Winfrey. All of you know Oprah Winfrey. She is very famous. She's had the network, the TV show, she's written lots of books, and she's given away lots of different things, but what do you think Oprah's why is? I often use her in different presentations that I have.
If you go back in her life, she had somebody very close to her break her trust. We see this very often with people with the why of trust that it has happened. I believe that Oprah Winfrey's why is to create relationships based upon trust, to be that trusted source, and to be the one that others can count on. If you can count on her and she can count on you, the sky is the limit. If you break her trust, you are not going to recover from that one.
I believe Oprah's why is to be the trusted source, the why of trust. What do you think? You can write it on whatever platform you are reading to. Thank you so much for reading. If you have not yet discovered your why, you can do so at WhyInstitute.com with the code, PODCAST50. You can discover your why or your WHY.os at half price. If you love the show, please don't forget to subscribe and leave us a review and rating on whatever platform you are using to read our show. Thank you so much. I will see you in the next episode.
Important Links
About David Mansilla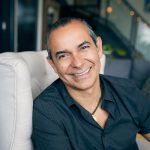 David is the founder and CEO of multiple businesses. Most prominent among them is his longest-running company, ISU Corp. ISU is a custom software solutions company with clients ranging from start-ups to multi-million-dollar conglomerates like General Electric and Heinz. Located in Canada's Silicon Valley, ISU Corp increases entrepreneurs' net profits with exceptional custom software solutions.
We have been granted awards like the "Best Innovative High-Tech Enterprise Software Company of the Year" from Global 100, and ACQ5's "Game Changer of the Year" to attest to our excellence. Most recently, ISU Corp has been chosen as a recipient of the Canadian Business Excellence Award for the fifth year in a row as a recognition of our outstanding company culture and effective process (2018-2022).
David Mansilla is passionate about inspiring others. A priority in his life is sharing his experiences in hopes of encouraging a new generation of entrepreneurs to reach their full potential. David is the host of The Break Free Podcast, where he invites a diverse set of guests to bring audiences valuable knowledge on living life on their own terms, whether it's professionally or personally.
David is also a #1 international bestselling author for his book, Breaking Out of Corporate Jail. David's trials and tribulations will deliver valuable insight into how to leave your corporate job and how to navigate your own business once you take the leap.