Guest: Paul Martinelli
WHY: Mastery
Paul Martinelli is an internationally acclaimed speaker, mentor, and coach who has transformed from a high school dropout with a stuttering problem to sharing stages with some of the biggest names in leadership and personal development. His journey, marked by challenges, resilience, and the transformative power of mentorship, makes him a beacon of hope and a testament to the fact that with the right mindset and guidance, anyone can achieve greatness.
Discover Paul's early life challenges and how they shaped his beliefs and self-concept, leading him to drop out of high school.
Uncover the pivotal role of the book "Think and Grow Rich" in Paul's life, and how mentorship from Patrick Hayes changed his thinking patterns and set him on a path to success.
Learn about Paul's commitment to empowering others, drawing from his own experiences to awaken and uplift individuals with low self-esteem or self-belief.
Don't miss out on this inspiring episode filled with valuable life lessons and transformative insights. Dive in and listen now!
Connect with Paul!
LinkedIn
Facebook
Instagram
YouTube
TikTok
Website: paulmartinelli.net
—
Watch the episode here
00:17:25: Reading "Think and Grow Rich" – Paul's expanded thinking.
00:27:49: Success of Paul's Cleaning Company – Loyalty of employees with an average tenure of 11 years. 2
00:29:22: Importance of Awareness – Recognizing opportunities and being in the right place at the right time.
00:30:06: Growth of Cleaning Company – Amazement at the scale of Paul's business.
00:59:29: Understanding Customer Inquiries – Parallels between Paul's approach and the dental industry.
01:21:41: Influencing People – Importance of guiding people to the next step in one's work.
01:32:28: Recognizing Value – Transformation people undergo once they understand their worth.
01:33:15: Levels of Service – Different services based on customer needs.
01:34:05: Value of Coaching – Impact on teams and their performance.
01:40:22: Not Giving Up Territory – Long-term effects of preserving one's beliefs and values.
Listen to the podcast here
Unlocking Success with Paul Martinelli on Beyond Your WHY Podcast
In the latest episode of the Beyond Your WHY Podcast, we had the privilege of hosting Paul Martinelli, an internationally acclaimed speaker, mentor, and coach. From facing challenges as a stuttering high school dropout to sharing stages with global leaders in personal development, Paul's journey is nothing short of inspirational. This episode dives deep into the transformative power of mindset, mentorship, and the principles that have guided Paul's remarkable success.
The Power of Self-Concept and Self-Esteem One of the most profound takeaways from the episode is the emphasis Paul places on self-concept and self-esteem. He believes that our self-concept, which is influenced by the image we hold of ourselves and how we believe others perceive us, plays a pivotal role in our life outcomes. Our self-esteem, or how we value ourselves, can either propel us forward or hold us back. In Paul's early life, challenges like stuttering and a stressful home environment shaped his self-concept, but with time, mentorship, and personal development, he learned to redefine his self-worth and potential.
The Transformative Impact of "Think and Grow Rich" Another major highlight of the episode is Paul's introduction to the book "Think and Grow Rich" by Napoleon Hill. This book, based on interviews with successful individuals like Edison, Ford, and Rockefeller, presents 13 principles that guide thinking and behavior. Paul credits much of his success to the insights and principles he gleaned from this book. It not only rekindled his ability to dream but also equipped him with the tools to turn those dreams into reality. For anyone seeking personal or professional growth, understanding and applying the teachings of this book can be a game-changer.
The Role of Mentorship in Personal Growth Paul's life took a significant turn when he met Patrick Hayes, a retired bond trader who became his mentor. Patrick introduced Paul to "Think and Grow Rich" and more importantly, challenged Paul's limiting beliefs about himself. This mentorship was instrumental in Paul's personal and professional growth. The episode underscores the importance of having mentors who can provide guidance, challenge our beliefs, and help us see beyond our current circumstances. As Paul's story demonstrates, the right mentor can unlock doors we never even knew existed.
Paul Martinelli's journey from facing adversities to achieving global acclaim is a testament to the power of mindset, the right guidance, and unwavering determination. His insights on self-concept, the transformative principles from "Think and Grow Rich", and the pivotal role of mentorship offer invaluable lessons for anyone on a journey of personal or professional growth. Dive into the Beyond Your WHY Podcast episode to discover these insights and more, and let Paul Martinelli's story inspire you to unlock your own potential.
—
Discover your WHY.os now for 50% off! Click here to purchase today or visit whyinstitute.com/why-os-discovery/ to learn more!
If you love the show, please don't forget to subscribe and leave us a review and rating on whatever platform you are using. Thank you so much for being here. I will see you in the next episode.
About Paul Martinelli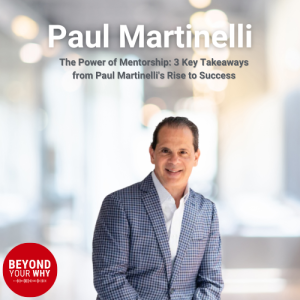 Paul Martinelli is an internationally acclaimed speaker, trainer, mentor, and coach who truly believes that if you can dream it, you can do it.
While many people know Paul as the Founding President of The John Maxwell Team and Co-Founder of the Cialdini Institute, what they may not know is that he is a high school dropout who overcame a stuttering disability to share the stage with some of the biggest names in leadership and personal development – names such as John C. Maxwell, Seth Godin, Dr. Robert Cialdini, Jack Canfield, Wayne Dyer, Brian Tracy, Denis Waitley, Zig Ziglar, Les Brown, Nick Vujicic and Mark Victor Hansen.
Paul was raised by a single mother in a Pittsburgh lower class family.
In the late 1980's, with just $200.00, a used vacuum, and a dream, he founded a small commercial cleaning company in South Florida.  
He combined smart sales tactics with personal development teachings and propelled his business to unbelievable heights. Just 15 years later, he sold his commercial cleaning company to pursue his passion and purpose of teaching people how to achieve success in their own lives. 
His awareness and ability to apply the success strategies and principles that he has learned and taught to others, led to Paul's success in life and business, including building 6 multi-million-dollar companies.
He now leads the Empowered Living community, a global platform of more than 2.3 million followers, providing personal and professional development training and education to help individuals and businesses build and grow beyond their current results.
Alongside of this, his most recent endeavor has him positioned as Founding Partner and Vice-President of the Cialdini Institute, a training and education enterprise that is dedicated to bringing the influential work of Dr. Robert Cialdini to individuals and organizations alike.
Paul Martinelli may not have a wall of diplomas, but you can't argue with his PhD in results.
Having worked his way up from mop bucket to multi-millionaire, Paul has practiced and proven what he preaches.