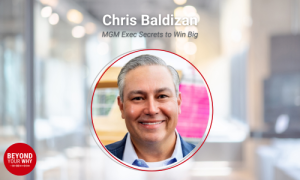 Chris Baldizan is an influential figure in the entertainment industry, boasting a successful career with MGM Resorts International. In this enlightening episode, Chris shares his captivating journey from humble beginnings to becoming an executive vice president in one of the world's leading entertainment companies. His insights into mentorship, the art of listening, and the evolving entertainment landscape make him a compelling voice in the field.
Major Takeaways:
The Power of Mentorship: Chris attributes much of his success to the guidance of mentors who have shaped his career and decision-making.
The Importance of Listening: Discover how active listening has played a pivotal role in Chris's personal and professional relationships, offering valuable lessons for all.
Evolution of the Entertainment Industry: Gain insights into the transformative journey of the entertainment industry, from traditional shows to innovative live experiences.
Chris Baldizan's remarkable career journey unveils the profound impact of mentorship, the significance of being a good listener, and the ever-changing world of live entertainment. Tune in to uncover the secrets behind his success and explore the dynamic evolution of the entertainment industry. Listen now for an inspiring conversation that may change how you view the world of entertainment.
Connect with Chris!
—
Watch the episode here
00:00:33 Embrace challenge, think differently.
00:05:33 Opportunities and diverse experiences matter.
00:12:03 Embrace diversity and push boundaries.
00:20:33 Importance of building relationships
00:26:19 Diverse career in entertainment industry.
00:31:04 Las Vegas entertainment industry diversifies.
00:39:42 Importance of mentorship and listening.
00:41:43 Importance of relationships and listening.
Listen to the podcast here
Navigating the Entertainment Industry Through Mentorship, Listening, and Collaboration
In the dynamic and ever-evolving world of entertainment, there are a few guiding principles that can make all the difference. In a recent episode of the Beyond Your WHY Podcast, hosted by Dr. Gary Sanchez, we had the privilege of exploring the incredible journey of Chris Baldizan, an influential figure who has left an indelible mark on the entertainment industry. While Chris's career is a treasure trove of experiences and insights, this blog post will hone in on three fundamental themes that have played a pivotal role in his success: the power of mentorship, the art of listening, and the role of collaboration.
The Power of Mentorship:
Mentorship has been a cornerstone of Chris Baldizan's career. He credits much of his success to the guidance and wisdom of mentors who have been instrumental in shaping his career and mindset. A mentor, in Chris's words, is not just someone who offers advice but someone who is willing to share the hard truths we need to hear. These hard truths, though often uncomfortable, are the stepping stones to growth and personal development.
One key takeaway from Chris's journey is the importance of seeking out mentors who align with your values and aspirations. These mentors serve as beacons of knowledge and experience, helping you navigate the complexities of your chosen path. They provide a unique perspective and can prevent you from making costly mistakes. Chris's story reminds us that behind every successful individual, there is often a mentor who played a significant role in their journey.
The Art of Listening:
In an era where everyone seems eager to have their voices heard, Chris Baldizan highlights the profound importance of listening. To him, listening is not just a passive act but an active engagement with others. It's about genuinely absorbing what others have to say and learning from their experiences. Listening, according to Chris, broadens your horizons and enriches your understanding of the world around you.
Moreover, listening is the foundation of meaningful relationships. In the entertainment industry, where collaboration and connection are paramount, the ability to listen becomes a superpower. Chris's career is a testament to the fact that by actively listening to colleagues, partners, and stakeholders, you can forge stronger bonds and create more impactful outcomes.
The Role of Collaboration:
Collaboration lies at the heart of success in the entertainment world, and Chris Baldizan knows this better than most. His career has been marked by seamless collaboration between different departments and teams to ensure the success of every event. Whether it's coordinating with artists, production teams, marketing experts, or venue managers, Chris emphasizes that no single entity can do it all.
Collaboration involves recognizing and leveraging the unique strengths of each team member to create something greater than the sum of its parts. It's about fostering an environment where diverse perspectives and talents can come together to deliver exceptional entertainment experiences. Chris's career trajectory underscores that in the world of entertainment, collaboration is not just a strategy; it's a necessity.
Chris Baldizan's remarkable journey in the entertainment industry teaches us that mentorship, listening, and collaboration are more than just buzzwords—they are guiding principles that can lead to extraordinary success. By seeking out mentors, actively listening to others, and embracing collaboration, you can navigate the complexities of any industry and leave your mark on the world, just as Chris has in the world of entertainment.
—
Discover your WHY.os now for 50% off! Click here to purchase today or visit whyinstitute.com/why-os-discovery/ to learn more!
If you love the show, please don't forget to subscribe and leave us a review and rating on whatever platform you are using. Thank you so much for being here. I will see you in the next episode.
About Chris Baldazin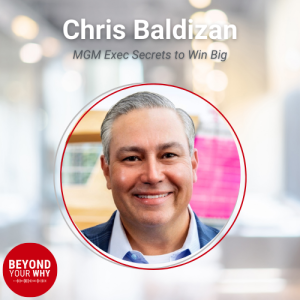 Executive Vice President of Entertainment
MGM Resorts International
As Executive Vice President of Entertainment for MGM Resorts International, Chris Baldizan oversees programming, ticketing and operations for one of the world's leading hospitality and entertainment companies.  Baldizan leads the portfolio's entertainment and sports initiatives for more than 35 venues and is instrumental in developing many of Las Vegas' high-profile entertainment projects.  He attracts the biggest names and events in music and sports to MGM Resorts' properties including the GRAMMYs, Bruno Mars, Lady Gaga, UFC and championship boxing, among others.
After being selected to participate in the Walt Disney World College Program in the summer of 1989, he transferred to the University of Nevada, Las Vegas (UNLV) where he received his BS in Hotel Administration. While attending UNLV, Baldizan worked full-time as an Event Coordinator at the Thomas and Mack Center. Upon graduation, he accepted the position of Event Manager for the MGM Grand Garden Arena and has been in the entertainment industry since.
After two years as Event Manager at MGM Grand, Baldizan moved to Lexington, Ky. where he served as an assistant trainer for Thoroughbred Race Horses. Upon returning to Las Vegas three years later, he served in several management positions with the Primadonna Company and the Las Vegas Motor Speedway. From January 2000 through December 2004, Baldizan held the position of Assistant Vice President for MGM MIRAGE Entertainment & Sports. He was then promoted to Vice President of Booking and subsequently joined Mandalay Bay Resort and Casino as Vice President of Entertainment.
Baldizan currently serves on the MGM Resorts/AEG arena joint venture board.  He also serves on the Las Vegas Events (LVE) board, the organization representing the Las Vegas Convention and Visitors Authority (LVCVA), as well as on the board of the Las Vegas Business Academy.  Baldizan formerly served on the board for the International Entertainment Buyers Association (IEBA) and the Country Music Association (CMA).