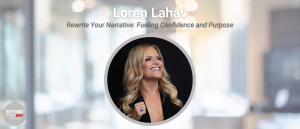 Loren Lahav, a renowned empowerment expert and speaker, takes center stage in this episode of the Beyond Your WHY Podcast hosted by Dr. Gary Sanchez. Loren's expertise lies in helping women unlock their potential, realize their self-worth, and overcome self-doubt. Her profound insights have impacted countless lives, making her an indispensable figure in the realm of personal growth and empowerment.
Major Takeaways:
Own Your Worth and Banish Self-Doubt: Loren Lahav delves into the pivotal concept of self-worth and reveals powerful strategies to break free from the grip of self-doubt. Through her own experiences and expert advice, listeners gain insights into recognizing their value and building unshakable self-confidence.
Embrace Authenticity and Set Boundaries: Loren emphasizes the importance of authenticity in aligning actions with personal values. Listeners discover the significance of setting clear boundaries in relationships and life pursuits, enabling them to navigate challenges and make decisions that resonate with their true selves.
Transformative Rituals and Intentional Living: Drawing from her life-changing rituals, Loren shares the significance of intentional living. By practicing positive affirmations, anchoring oneself in empowering beliefs, and prioritizing self-care, listeners are equipped with practical tools to create a purposeful and empowered life.
Ready to Elevate Your Life? Tune in to this episode as Loren Lahav and Dr. Gary Sanchez unveil the keys to transforming your self-worth, embracing authenticity, and crafting a life of purpose. Don't miss out on this insightful conversation that will inspire you to step into your greatness. Listen now to embark on your journey towards empowerment and self-discovery.
Connect with Loren!
Facebook
Instagram
Twitter
YouTube
Websites: lorenlahav.com
—
Watch the episode here
00:00:29 Challenge the status quo.
00:06:22 Empathy for others is crucial.
00:11:39 Importance of finding your why.
00:20:23 Celebrate everyday heroes, especially women.
00:24:09 Importance of finding purpose.
00:29:45 Empower women, spread love.
00:31:09 Own your worth and set boundaries.
00:37:31 Own your worth, set boundaries.
00:42:09 Live intentionally, stay true to yourself.
00:49:08 Importance of knowing your why
Listen to the podcast here
Unveiling the Power Within: Loren Lahav's Journey to Empowerment
In a world where self-doubt often takes center stage, the guidance of empowerment experts becomes a beacon of hope for individuals seeking to unlock their full potential. In this insightful episode of the Beyond Your WHY Podcast, hosted by Dr. Gary Sanchez, the spotlight is on Loren Lahav, a dynamic empowerment speaker and coach. Loren's expertise in helping women reclaim their self-worth and banish self-doubt is indispensable in today's quest for personal growth and empowerment.
Embrace Your Worth and Overcome Self-Doubt
Loren Lahav's journey into empowerment began with her deep-rooted desire to assist women in embracing their true worth. In this episode, she delves into the heart of self-worth, guiding listeners on how to break free from the clutches of self-doubt. Loren shares powerful techniques that empower individuals to recognize their intrinsic value, fostering self-confidence and resilience. By shedding light on the importance of understanding one's worth, she paves the way for listeners to embark on a journey of self-discovery and empowerment.
Authenticity and Setting Boundaries
In a world dominated by external expectations and pressures, Loren underscores the significance of authenticity in the pursuit of one's goals. She reveals how embracing one's authentic self is a powerful catalyst for personal growth and empowerment. Moreover, Loren dives into the realm of setting boundaries – a crucial aspect of self-care and well-being. By providing practical insights, she empowers listeners to make choices aligned with their true selves and foster healthy relationships. Through authenticity and boundary-setting, Loren equips individuals with tools to navigate life with confidence and authenticity.
Rituals for Intentional Living
Loren's rituals for intentional living are a game-changer. As she shares her personal practices, listeners gain valuable insights into how intentional actions can pave the way for a purposeful life. From daily affirmations to anchoring oneself in empowering beliefs, Loren showcases how simple yet intentional habits can make a significant impact on one's well-being and mindset. By prioritizing self-care, self-love, and personal growth, she empowers individuals to step into their full potential and lead a life fueled by purpose.
Elevate Your Life with Loren Lahav
Loren's insights transcend the boundaries of traditional self-help advice, providing a blueprint for individuals to harness their inner strength and worth. Her expertise serves as a guiding light for those seeking transformation in various aspects of life, whether it's personal relationships, career growth, or overall well-being. Ready to embark on a journey of empowerment and self-discovery? Don't miss the illuminating conversation between Loren Lahav and Dr. Gary Sanchez. This episode of the Beyond Your WHY Podcast is a treasure trove of insights that will inspire and guide you towards crafting a life of authenticity, resilience, and purpose.
Empower yourself with Loren Lahav's transformative wisdom by tuning into this empowering episode. Take the first step towards a life of self-discovery and empowerment – listen now! Loren's profound understanding of self-worth, authenticity, and intentional living will leave you equipped with the tools to navigate life's challenges with confidence and grace. Don't miss out on the opportunity to elevate your life and embrace the power within you.
—
Discover your WHY.os now for 50% off! Click here to purchase today or visit whyinstitute.com/why-os-discovery/ to learn more!
If you love the show, please don't forget to subscribe and leave us a review and rating on whatever platform you are using. Thank you so much for being here. I will see you in the next episode.
About Loren Lahav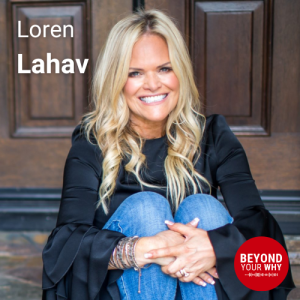 Loren Lahav is known as the Get Sh—Done Gal! (What she commonly refers to as GOYA, aka Get Off Your As–!) In fact, in a recent podcast with a world-renown life & business strategist, she was told, "Loren, you're my go-to gal," because of her resourcefulness and ability to take an idea and make it come to life with lightning speed.
Just imagine taking that commitment and resolve and channeling it toward helping others – which is what Loren has been doing for the past three decades. She is rapidly becoming known as "The Source" for women of all ages all over the world.  And she doesn't just talk about it… she walks her talk and fearlessly looks risk in the eye and takes it on unabashedly.  She doesn't quit until she can say, "And so it is!" She leads through her results and massive action.
An American talk show host, television producer, mom, wife, author, entrepreneur and philanthropist, Loren is the real deal.  Her signature is her ability to take someone facing a challenge, quickly identify what it will take to resolve their issue and do an intervention that results in lasting change in a matter of minutes.  This is a skill that she has developed, having been involved in Personal Development for over 30 years. Not only has she studied with some of the greatest thought leaders in the world… she has the innate ability to apply what she has learned to helping thousands transform their lives.  It's no wonder that many have dubbed her, "The Queen of Personal Development."
Needless to say, she is consistently switched on, especially when it comes to delivering her message to audiences that span globally, of all sizes.  Loren has spoken to live audiences of tens of thousands and recently captivated a group of 160,000 on Zoom. Classy, brassy and poised, Loren has shared the stage with notable and celebrated luminaries such as Barbara Walters, Tony Robbins, Gary Vaynerchuk, Mike Rowe, Kevin O'Leary, Barbara Corcoran, Erin Brockovich, Campbell Brown, Robert Herjavec, Bear Grylls, Eric Worre and Jean Chatsky.
Loren has been a keynote speaker for such signature events as:  National Achievers Congress, The Power of Women, Most Powerful Women, Amazing Women's Day and Go Pro Recruiting Mastery.  She has also facilitated 175+ Life Mastery Events, a 5-day intensive, for the Tony Robbins Companies, on live and virtual platforms and recently led Virtual Wealth Mastery to a group of thousands
Her business triumphs include a thriving real estate investment enterprise throughout the United States. She has built explosive teams in over 25 countries. Lahav's ability to lead teams and her business savvy have brought her to deliver her message to companies such as LIFEAID, Zappo's, Lululemon, Four Seasons Hotels, Success Resources, Tony Robbins Companies, NMP and Hilton Grand Vacations.
Loren is the author of Life Tuneups, which was featured in People Magazine as one of the "Top 3 Books of 2010." Other books she has authored include The Greatest Love: Being an Extraordinary Mom, Drama-Free Divorce Detox, Chicken Soup for the Soul: Time to Thrive, and The Courage to Raise a Gentleman. Her books have been distributed worldwide and have been translated into three languages. She has been featured in multiple publications and talk shows, including: Success Magazine, Ladies Home Journal, Women's Day, Luxury Las Vegas, Fox News "The Strategy Room," Oprah Radio, Voice America, Unapologetically Authentic, many a.m. talk shows and dozens of podcasts.
Driven by her passion to helping empower women of all ages all over the world, of all walks of life, Loren has created a platform through her products, TV, documentary, online resources, live and virtual events and books for women to receive support on many levels and through community.   Among her creations that inspire is a series of "I Am" affirmation cards. The power of the words, "I AM" are subtly powerful. These decks give you a daily affirmation that you can use to transform your mindset and your life, one belief at a time.
Loren's philanthropic endeavors have led to feeding over 5,000 people all over the world by creating a movement that delivers Blessing Backpacks to those in need. She also helped fit over 5,000 hearing aids in Vietnam so people could experience the miracle of hearing for the first time in their lives. She has also served on the Board of St. Jude's for the past seven years. Loren's commitment to contribution has inspired her to reimagine the world of Personal Development to Personal Responsibility.
By leading by example, Loren has become known as one of the most influential women in the world. Her mission is to be ranked among the greatest women philanthropists on a global scale. Her message is compelling. Her delivery is impactful. Her heart is huge. Loren Lahav redefines the meaning of living a life of purpose and fulfillment.
Loren is also the creator of Own Your Worth held on March 31 and April 1 with 5,000 virtual audience and 300 live audience.