Watch the episode here
00:00:09 Persuasion is about pre-suasion.
00:08:35 Use an effective opener for persuasion.
00:17:02 Small changes can have big impacts.
00:26:00 Small bigs make a difference.
00:34:08 Use ethical persuasion techniques effectively.
00:42:24 Think well of others.
Listen to the podcast here
Dr. Robert Cialdini, a renowned expert in the field of influence and persuasion, is the guest in this episode. With extensive research and expertise, Dr. Cialdini has authored books and developed principles that provide valuable insights into understanding human behavior and how to ethically influence others.
Three major things you will learn by listening to this episode:
Differentiating influence from persuasion: Understand the psychological aspects of influence and how to create a favorable state of mind in your audience before delivering your message.
The power of small actions and cues: Discover how something as simple as a smile or the shape of a smile can significantly impact people's decisions and preferences.
The importance of ethical application: Learn how to apply the principles of influence in an ethical manner to build long-term trust and loyalty.
To gain valuable knowledge from Dr. Cialdini and delve into the art of influence, listen to this episode now!
Connect with Dr. Robert Cialdini!
Facebook: https://www.facebook.com/robert.cialdini
Twitter: https://twitter.com/RobertCialdini
Instagram: https://www.instagram.com/teamrobertcialdini/
LinkedIn: https://www.linkedin.com/in/robertcialdini/
Unleashing the Power of Ethical Influence: Insights from Dr. Robert Cialdini
Discover the art of ethical influence and the fascinating world of human behavior in this captivating podcast episode featuring Dr. Robert Cialdini. As a distinguished expert in influence and persuasion, Dr. Cialdini shares his extensive knowledge, providing invaluable insights to help you master the art of persuasion. Whether you're a business professional, marketer, or simply looking to enhance your communication skills, this episode is a game-changer.
Unveiling the Guest
Dr. Robert Cialdini, the renowned authority on influence, brings his unrivaled expertise to the forefront of this episode. With a plethora of groundbreaking research and best-selling books to his name, Dr. Cialdini is a trusted source for understanding the psychological factors that shape decision-making. His contributions have made a significant impact on professionals across diverse industries.
Unleashing the Secrets to Ethical Influence
Explore the essential elements that differentiate influence from persuasion, and how they play a vital role in achieving successful outcomes. Dr. Cialdini delves deep into the psychology behind effective messaging, teaching you how to prepare your audience to be more receptive to your requests. Gain a thorough understanding of the principles that underpin persuasive communication, enabling you to ethically influence others.
Harnessing the Power of Subtle Cues
Discover the surprising impact of small actions and non-verbal cues on decision-making processes. Dr. Cialdini shares intriguing studies that highlight the significance of a smile and its shape in shaping preferences and choices. Uncover the potential of leveraging these subtle cues to create lasting impressions and drive desired outcomes.
Ethical Application for Long-Term Success
Ethics and integrity form the foundation of ethical influence. Dr. Cialdini emphasizes the importance of maintaining trust and authenticity when applying persuasive techniques. By aligning ethical practices with the principles of influence, you can build long-term relationships, foster loyalty, and achieve sustainable success in your personal and professional endeavors.
Why You Should Tune In
Don't miss this exceptional opportunity to gain invaluable insights from Dr. Cialdini, a true authority in the realm of influence. Unlock the secrets to mastering ethical persuasion, establish stronger connections, and drive favorable outcomes. Whether you're a seasoned professional or a passionate learner, this episode will equip you with actionable strategies to make a lasting impact.
Don't wait any longer! Immerse yourself in the realm of ethical influence by listening to this transformative episode now.
About Dr. Robert Cialdini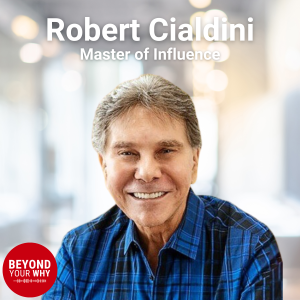 Robert Cialdini, a thought leader in the fields of influence and persuasion, has spent his career publishing scientific research on what causes people to say "Yes" to requests. The results of his research, his ensuing articles, and his New York Times bestselling books have led to his election to the National Academy of Sciences and the American Academy of Arts and Science.
His 7 Principles of Persuasion have become a cornerstone for any organization serious about increasing its influence
significantly, while doing so ethically.
As a keynote speaker, Dr. Cialdini is renowned for his ability
to translate the science of influence through valuable and
indelible stories that lend themselves to long-term business
applications.
His books, including his New York Times Bestselling Influence and Pre-Suasion, have sold more than seven-million copies in 44 languages. As a result, he is frequently regarded as
"The Godfather of Influence".