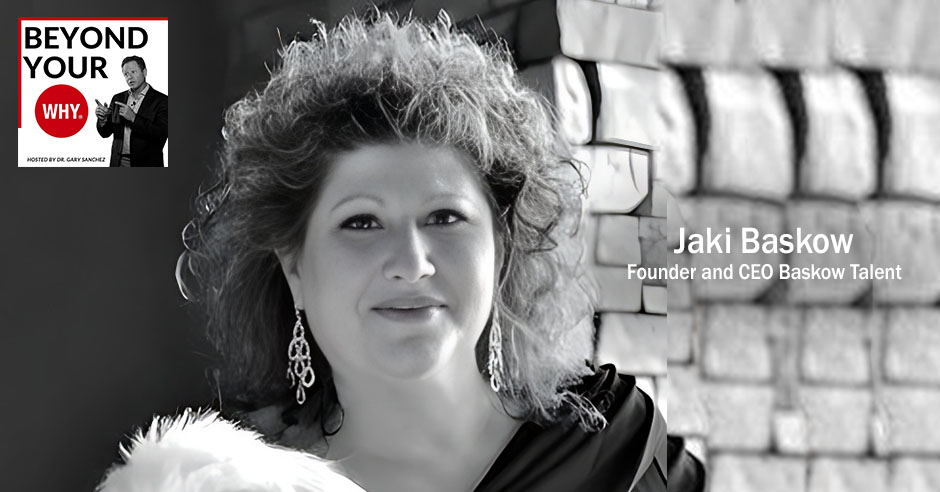 If you have the WHY of Contribute, you are all about being a part of a greater cause, even from behind the scenes. This episode's guest is one who completely embodies this. In fact, she has worked behind many big talents and names in the entertainment industry—Mr. Frank Sinatra, included. Joining us is Jaki Baskow of Baskow Talent, whose 45-year career in Las Vegas placed her as one of the top and preferred vendors at Caesars and The Wynn. She sits down opposite Dr. Gary Sanchez to tell us about her amazing career journey opening her own talent agency. From having lunch with Frank Sinatra to selling her destination management company to helping speakers get booked, Jaki fills us with great stories and advice for inspiration. Through it all, Jaki reminds us of her definition of peak: to wake up loving what you do. Tune in as she shows her WHY, creating an impact in the lives of others.
—
Watch the episode here
Listen to the podcast here
From Sinatra to Stallone: Jaki Baskow's Impact on the Entertainment World & Her Journey to Success
In this episode, we're going to be talking about the Why of Contribute. To contribute to a greater cause, add value and have an impact on the lives of others. If this is your WHY, then you want to be part of a greater cause, something that is bigger than yourself. You don't necessarily have to be the face of the cause, but you want to contribute to it in a meaningful way. You love to support others and you relish successes that contribute to the greater good of the team. You see group victories as personal victories. You are often behind the scenes looking for ways to make the world better.
You make a reliable and committed teammate and you often act as the glue that holds everyone else together. You use your time, money, energy, resources and connections to add value to other people and organizations. In this episode, I've got a fascinating guest for you. Her name is Jaki Baskow. She moved to Las Vegas, Nevada, in 1976 to work at a movie studio under the creator of Batman, Bob Crane.
After they lost financing, she was talked into opening her own talent agency and her new company broke a 25-year-long monopoly in the Talent Game. The first commercial Jaki was in charge of casting and made $36,000 in royalties. This caught the eye of Mr. Frank Sinatra. Mr. Sinatra requested a meeting with Jaki because he was helping Marlene Ritchie, who was his opener at the time, acquire an agent.
That was the start of her 45-year career working in Las Vegas, where she is one of the top and preferred vendors at Caesars and The Wynn. Jaki has since produced TV segments, booked stars to take to Italy for the Telegatto and filled seats for the Oscars for many years. She has worked with Stallone, Gene Hackman, Tom Selleck, Kevin Costner, Sharon Stone and so many more. Discovery Channel also featured Jaki in a TV segment on Casino Diaries, where they named her one of the Top Celebrity Star Brokers in the world and named her the Queen of Las Vegas. Jaki, welcome to the show.
Thank you so much. It's a pleasure to finally be here.
I know it's only taking us a year, but we're here now.
So much to share, though. A lot to share.
This is exciting. You're in Vegas now. Where did you grow up? What were you like in high school?
Horrible. I don't even know how I ended up in business. I grew up in Cherry Hill, New Jersey. When I was sixteen, my dad owned a bar. He was robbed and killed, so I had a very tragic teenage years. I barely finished high school. My friend Ann's mother went in and begged them to graduate me. Her dad got me a scholarship for Miami Dade Junior College. I couldn't type. I couldn't do anything. I was a mess. I just wanted to invite people over and party.
I went to Miami Dade for two years. I was all about the music because we'd sneak on the campuses at the University of Miami and they had people like James Taylor and people like that. It was amazing. I worked three jobs to keep myself going. I eventually came back to New Jersey. I worked with my mom part-time and I would take buses to New York to try to be an actress.
I wasn't a very good actress, but I was a good talker. I was seeing somebody cheating on me and we decided to go to the Catskill Mountains and met Bob Kane. My neighbor and I decided to move out to Las Vegas to work for a movie studio. When we got here, there was no movie studio. It was an old electric company building. Bob and a man named Russ Gerstein lost their financing. I had no idea Bob was the creator of Batman. He ended up moving to LA.
I ended up hiring Peter Guber, who bought the project twenty years later as a speaker. We live in a fishbowl. We keep going around. I started my company with $300. I took a job with Telly Savalas and they talked me into opening my talent agency. Somebody gave me an office, a man named Bobby Mars and I couldn't afford to run my talent agency.
At night, I'd put glasses on and put my hair in a ponytail and go call bingo. On the weekend, I worked at Big Ben's car lot. When you're passionate and persistent, you have to do what you have to do to get to that next step. My beautiful career that I've had here for many years has enabled me to help others and that's what life's about. I hired Shaquille O'Neal and he said something like, "It's not about how successful you are, how much money you make. It's about what you do. You want to be known for kindness and giving back to others." He's very philanthropic and I was very impressed with him.
When you're passionate and persistent, you have to do what you have to do to get to that next step.
Click To Tweet
Let's go back for a minute to high school. When you said you barely made it through, was it because of grades or getting in trouble or was it you didn't have any interest in learning the way they were teaching?
Probably ADD and don't know it. I could not concentrate unless it was something I wanted to concentrate on. We used to go and dance on a TV show called the Jerry Blavat Show. We went on that show 3 to 4 days a week, then we'd go to dances every night. My whole life was going to dances, and that's what subconsciously kept me going mentally with all the tragedy I had.
In school, I never was a serious student. I got Ds, Es and Fs. It was not good, but you have to be focused. I have some relatives that went to college and they weren't focused. If you're not focused, you can't concentrate. You have to put your mind on things, but I made it through high school. I went to junior college in a blink of an eye and I ended up in business.
I believe in working when you're young and learning things. My mom was a bookkeeper for a wholesale meat house. I used to go there and I used to pick up the phone, "Do you need meat this week? Do you need that?" We sold to all the restaurants in New Jersey. She was a bookkeeper also and she did their sales.
I learned how to do bookkeeping and how to sell. I consider myself a great salesperson. You have to be able to sell your company and sell yourself and believe in yourself for other people to believe in you. Education is wonderful and I truly believe in education, but people can't afford education and in those days, I couldn't afford education. My mom was working two jobs to support my brother and me. You learn how to work and to do things. I've been a waitress, a cashier and a telephone operator. I think I've been everything. That enabled me to be successful in my own business and to look after things in my own company. I still love people.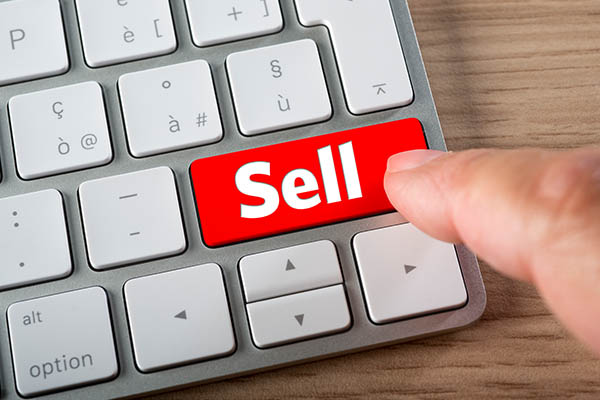 What was Vegas like when you moved? What year was that? What was it like when you moved there?
It was 1976. There were under 200,000 people here. I think the city was not run by who it's run by now, but everybody knew your name. I'd pull up to the Desert Inn Hotel and I knew Gary, the valet guy. I knew all the valet people at Caesars at that time and it was more personal. To me, it was more personal and I loved it.
People knew you when you walked into the hotel and it's all about relationships. I'm old school. I'm about relationships, meeting people face to face, and interacting with people because when I have a job, whether a little job or a big one, I try to show up and meet my client and thank them for their business and how important they are to me. Not many people do that these days, as you know.
You opened your talent agency. What was it called?
Baskow Agency. Original, right?
Who was your first client?
My first client was Suzanne Summers. I did a TV show called Jack and the Princess. I didn't represent her, but it's a very funny story about the fishbowl. I hired some people to work on that show. I also worked on a David Brenner commercial where I put a guy named Spider in the commercial and he touched the Schmitz beer in the commercial and became interactive with the product.
He made royalties, $36,000, and he went home and told his boss. His boss's best friend, Julie Rizzo, happened to discover Marlene Rickey at the Aladdin Hotel. She was now opening for Frank Sinatra and she didn't have an agent. I got a phone call, "The old man wants to meet you." I called my mother and started crying. I said, "I don't know who the old man is, but somebody, I think, is trying to steal my company. I'm coming back to New Jersey." I ended up going to the lunch and he was lovely. I met him and Julie. I became friends with them until the end. I went to his show every single time he was here. He was such a legend and icon in the industry.
Let's dive into that a little bit. What was it like sitting down to have lunch with Frank Sinatra? Where was it? Do you remember where you had lunch?
Yes, it was a coffee shop at Caesars Palace. He walked in with this Black NBC Peacock jacket. When he turned around, I didn't know it was him. I didn't even know who I was having lunch with and Julie came in. He had his glasses and his little one eye. He said, "I hear you're the new Sue Mengers in town." I said, "Mr. Sinatra, you can have my company. Who is Sue Mengers?"
Believe it or not, he followed my career. One time we were doing a commercial over at Bally's, which was the MGM before the fire. We're in the elevator and Paul Anka gets in the elevator. Frank is talking to me in the elevator and he introduces me. He said, "Who is she?" He said, "She's an ex-Sue Mengers in town." Paul Anka was like, "Who was she?" You don't get in the elevator with Frank Sinatra. It's usually security guards in the elevator with Frank Sinatra.
It was very interesting. It was a wonderful time to be in business. I started my business with $300 and I built it to a very big company. I had 24 employees a few years ago. We built it to a $20 million company, had some employees that took fifteen employees and about $15 million in business. You then dust yourself off and you build yourself up again. I became another destination management company again then I decided I didn't want my company, but I don't want to jump to that. You can ask me more questions and I'll tell you the climb.
Frank sounds like he was very helpful in the early stages of your business.
I never asked them for anything because I don't like to ask people. I would rather give, but he walked me into the catering in the office with a man named Jerry Gordon, who was the manager of the hotel at the front desk. He said, "Can you use this kid's modeling agency? Use this kid's company. See if you can help her." I'm like, "Thank you, Mr. Sinatra," like a little girl. Jerry Gordon and I became friends.
One day, he introduced me and I started doing parties at events. He said, "Can you do parties at events?" I'm like, "Sure." The first thing I did for them, they asked me if I had a band and I hired a band called Bobby and the Imperials. They asked me if I could bring somebody into a morning meeting. How would I creatively do something fun to open a morning meeting?
I said, "What about Caesar and Cleopatra and one of those leaders with feeding grapes in the mouth?" They didn't tell me who it was and the next thing I know, the next day, we were on the front page of the news. It was a man named Jackie Presser, the head of the Teamsters. I'm a kid. I was so naive when I moved here. I didn't know anything. I thought a working girl was a girl that went to work for a living. That was my first job with them.
Jerry introduced me to a man that was a radio host. He was from Italy and his friend was the Johnny Carson of Italy named Mike Bongiorno. He came here and they were going to produce twelve TV shows of somebody winning some contest and coming to Vegas, in the desert, showing them at a hotel. They said, "Can you produce TV shows?" I said, "Sure." I ended up hiring a guy named Don Jacobs, Mr. Camera, who was second unit camera for Entertainment Tonight. We traveled around and I ended up doing 26 TV shows for them and Engelbert, Lynda Carter and Frank Sinatra, Jr., Ben Vereen and all these people. I went in like I was a magazine show and did these interviews and became friends with everybody.
They said, "Mr. Berlusconi wants to know if you can bring celebrities to Italy." I said, "Who's Mr. Berlusconi?" They said, "He's a man that owns a TV station." They didn't tell me he was the Prime Minister of the country. I started bringing celebrities. The first one I brought was Gary Coleman then I brought Michael Douglas over. I brought over Sylvester Stallone then we went to Mr. Berlusconi's house for dinner and he gave Sylvester Stallone a lot of money for his movies.
I took Kevin Costner and his wife over and ended up helping them with their honeymoon, Tom Selleck, a doll to work with, and Andy Garcia. I ended up doing all these different crazy TV shows, Miss Italia, the Italian Oscars, the Telegattos. It was a blessed time for me. I sent Jennifer Lopez over to the San Remo Music Festival, but I ended up not going to that one.
It's like, all of a sudden, you're a kid from New Jersey, not knowing anything, sleeping in the same room as your mom because you barely have money to eat, then you're living this lavish life. It's been crazy. I decided to take the lavish life and pay it forward to other people. I've been mentoring kids at the university that want to be in the hospitality and entertainment business.
I try to put as many people as I can to work, whether it be a movie, a TV show or an extra. I tell people, "It doesn't matter about being a celebrity. It's what you do. If you do one day of your passion. You've lived your passion in your life." I've been blessed. I brought some celebrities to Boys and Girls Club for the High Singers in Florida with my friend Cheryl Kagan. I got involved with the National Center for Missing and Exploited Children.
A friend of mine, John Daly, introduced me to John Walsh and to a man named John Arnos. Years later, every year, when we raise money and do these golf tournaments and these events, we find missing kids. It's every single year around the time we do the event. It's unbelievable. I work with Make-A-Wish. It's funny that this is happening now. A friend of mine just came in from New Hampshire. We are purging. We purged 38 bags that we gave to SafeNest and Safe House to people that don't have anything.
When you think about it, whether you have $5 or $500,000, we save things. We become pack rats and we start with 5 sets of dishes instead of 1 set of dishes. It's so important to start getting rid of that stuff and getting it to people that don't have anything like the Ukrainian families that came here. I'm trying to minimalize and give to others because it feels good. It made me feel like I lost weight.
You've built your company up over the years and what was it like at its peak? Give us a sense of when you were at the peak of what you were doing, when was that? What was going on? What did that feel like?
I'll tell you about the peak, but I have to say that every day I wake up and love doing what I do is my peak. I love every day, whether I'm doing something little or small. I would say that my peak, when I was bringing all the celebrities to Italy before COVID, was my most fun. You get to go there. You're in a different country, it's wonderful. It's a lot of fun. My peak, I had a girl that was the president of my company that worked for me. We took my company out of nowhere to a $20 million company.
I was able to buy some of my employees cars and send them to Europe on vacations and give people deposits for houses that had nothing. It was like a dream come true. This stuff doesn't happen in a lifetime and it was amazing. Unfortunately, she was not amazing. She turned out to be not a good person, but that's why I was left with the fifteen employees, but you learn in life. When you do so many things for people and people don't appreciate it, you learn something and I learned a lot because everything is a journey. In my journey, I learned that you can't buy loyalty, love, loyalty and friendship. It just is. It was a pretty big blow.
You can't buy loyalty, love, and friendship.
Click To Tweet
It sounds like you were using your success to help others.
If I made money, everybody was making money. I had great parents. My mother taught me never to be selfish. It was funny because my mom lived in a little studio apartment when she got older and assisted living in Cherry Hill, New Jersey. As I started making a couple of bucks, I'd come back from Italy and I'd buy her a pretty ring. She would turn around and give it to the Russian immigrants that lived in her building.
I buy her beautiful clothes and she'd give them away. She'd rather have a sweat outfit and go to bingo. I love that about her because she was a good person and things didn't matter. I think all of us get caught up in things and possessions. Sometimes you look around you or your friends with people who don't have those possessions and realize the only possession we have is family, friends and our health.
When you had the scenario, how long ago was it that she took the fifteen people and left?
Also, $15 million in business. Many years ago. It was not good, but I have an angel over my shoulder. I had what was called a destination management company. We did the parties, the events, the entertainment, the speakers, everything. What happened was I ended up selling my company two years later to a Wall Street guy. His name was Steve Black. He helped take LPL Financial public. He owned my company for a couple of months, then he went back to work for his ex-boss that retired.
He paid me for full on my company and gave me my office building back. It's a God story. My brother went through a divorce and lost everything. I went and took some of the money and bought him a house in New Jersey. I was so blessed to be able to do this because this stuff doesn't happen in real life most of the time.
You're at the top. When she left, took most of your business, then another guy comes along and pays you off in full when he doesn't even need it and then now you're back on top.
A wonderful man. What happened was when my president and her son finagled to take my employees, I was doing AT&T events all over the country and Texas Instruments. We were big time. We became a big company and a small pot here. I realized it's funny because I sold my company to Steve Black and then, like I said, he went back into the financial world, overlooking about 123 companies for his boss and putting teams together.
I'm still in touch with him and his family. I can't even say enough about him. About two years later, one night, I was on the internet and I decided that I did not want this event planning company anymore. I didn't want to be the boss. Does that sound crazy? I wanted to service my clients and make sure people were taken care of. When you're the boss, you're sitting behind your desk, trapped and taking care of employees and it's tough.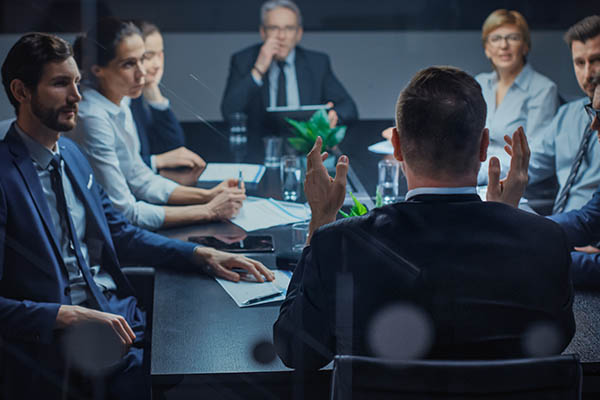 I ended up selling my company to another destination management company. I'm not going to talk about them. I stayed with them for a few years as president of business development. I kept my speaker's bureau and talent agency because that's always been my love and passion, my movies and TV. That's what I'm doing.
It's funny because you were asking about some of the first people I worked with. It was Suzanne Somers on Jack and the Princess with her and Bruce Boxleitner. Years later, she's doing a convention for me and I'm doing little doodling. I came up with the idea for the Suzanne Somers Pajama Line that's on Home Shopping Network.
Is your favorite thing working with the talent versus doing the destination and doing the events? What has been your favorite thing to do over the years?
Entertainment, the movies, the TV, the talent and the speakers because I think with everybody that you hire, especially with my speakers. You learn something in life. You get a message, inspiring, motivating and you learn more about life. I have a young man named Nick Santonastasso that I hired. Do you know Nick?
He has no arms and no legs and he lives life bigger than anybody that I know. He opens for Tony Robbins. I used him. People were like grabbing onto the wheelchair when they saw him, like, "You changed my life." At the end of his speech, he did this meditation about taking a deep breath in and letting the little child out that all the things you're harboring like, "I'm mad at my Mom and Dad. I'm mad at this. I'm mad at that. I'm angry about my ex-wife and my ex-husband." He was very moving. I can't even believe some of these people that I've found. It's like your why. How many people don't know what their why is? Why did I do this? Why am I in business? Why did I stay in that relationship too long? Many answers and so many questions, so I love what you're doing.
Thank you. Now, it's Baskow Talent?
It's Baskow Talent and Las Vegas Speakers Bureau. Two different companies but under the same banner.
When you look back, what do you attribute? How did you have such success in that industry? What was the secret to going from small to $20 million?
First of all, I was scared. I came out here with $300. My roommate moved to LA. She ended up being the assistant to the director, Sydney Pollack for 30 years. I was here by myself. My mother did not have a dime to give me. My mother, I think she had maybe $3,000 to her name in her bank account. It's like it's survival of the fittest. You do what you have to do to survive. That's why people are like, "You're calling bingo at night? I'm doing whatever I can to pay my rent."
I think the Caesars Palace becoming their party and event planner and doing their entertainment things over there in the day and age when it was blossoming was a big deal for me. I start at no. If I made $1,000 in a day or whatever, it was a lot of money for me in those days. Also, the Italians, I produced thirteen TV shows in a week and made 92,000 profit. It's unheard of. I bought my first house. I went from an apartment to buying a house. I'm like, "I'm a homeowner." It's exciting. Any job is exciting, whether it's little or big or whatever if you love doing it.
What helped me be successful is I never stopped. I was tenacious. I'm a networker. If I would meet you, I'd say, "Would you like to be in my Speaker's Bureau?" I would stay in touch with people. On my destination management company up to a couple of years ago, I couldn't do all of that. I couldn't concentrate on that because I had to concentrate on ten employees after I lost the 24 employees. I had ten employees left and a lot of them were women.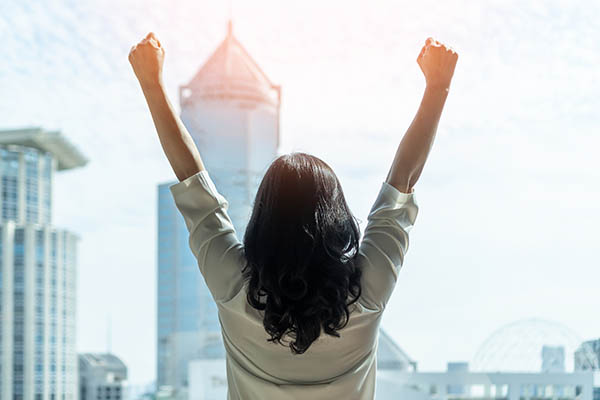 I'd get these boxes in the mail, they'd be in their office shopping and I'm bringing in the clients and said, "If I didn't bring in the clients, I wasn't paying that $92,000 overhead a month." It's a lot of money to be a business. As you know, COVID hit and things change. Everything changed in the world after COVID. To me, I see quality in restaurants have changed. I see people don't want to work. I see people don't come up and talk to you and they're not happy. I don't know. It's crazy. I always try to make people feel good, whether if I see somebody on the street that's homeless or whatever. I try to do something for somebody and change their day. Conversation and a smile changes your day.
When I first met you, we were introduced by a mutual friend. When I saw your bio and went to your website, I saw a picture. I don't want this to come out wrong but I wasn't expecting somebody as friendly and positive and willing to help as you were because in many situations in your industry, you don't seem to find that.
Thank you. I got a little crazed after I saw you and we still need to do catch up. I had a girl that worked for me that was my assistant who lost her husband. I lost my assistant of ten years. I'm not technologically savvy on doing this proposal, but you learn very quickly. My general manager, unfortunately, lost her little nine-year-old daughter. You learn that you have to do what you have to do.
I have to tell you that this has been a good experience for me because when you start getting a lot of employees and you have people working for you, it's like, "Get me this. Get me that." I learned not to get out of my chair. Does that make sense? I expect everybody to bring me everything. Not in a pompous way because I'm on the phone all the time and doing my thing. Now I find myself more touching and feeling everything that I needed to do. I'm opening every file. I'm closing out I'm more paying attention more to a lot of things which is important.
How many people do you have now working for you?
Four part-timers.
Is it part-timers from what'd you say, 24?
I have three out-of-office remote salespeople, then I have three people that do coordinating like if I have a job, like tomorrow night, somebody is going to go check in a band for me. Usually, I'll show up. Tomorrow night I can't show up, so they're going to show up and then I have two part-timers in the office. I have more than that the people that come in and out.
That's a big difference from 24 down to six part-timers or five part-timers.
At my height, I had $172,000 overhead a month. That's enough to put on 50 pounds and aid you.
How do you determine who you want to work with?
It's so hard because I like everybody, I do. I try to help everybody and sometimes I get overwhelmed. I have a girl, Kelly, that works with me in my talent department. We know we're casting a movie or TV show. She does a lot of the electronic submissions that I don't do. The speakers and the entertainment, I try to interview in person.
My web guy, Steve, I found him and we built a new website. I'm so glad. My old website was dated. I'm marketing now. I have a girl that lives in Israel named Natalie. I forgot about her. What I do is I'll have flyers made and I'm going to talk to you about it. You'd make a flyer, what is your why? You speak about this at the convention. We started sending out these flyers. I have about 120,000 to 132,000 emails of people who have attended trade shows, companies, meeting planners, event planners and Senate houses.
With constant contact, you can only send like 400 and some a day. She'll take that flyer and like you'd give me a flyer built-in contact and we send it out. That's how we let people know about you because out of sight, out of mind. You know that. It's all about volume and letting people know because I'm sitting here as one Speaker's Bureau and one talent agency.
If I don't get those calls, then maybe ten other speaker's bureaus you work with get those phone calls and somebody's going to call you for a job. It's been very interesting and I like it. I have to tell you that I like it. I have an office on Eastern Avenue, a small office and I have an office in my home now. I spend 90% of my time at home working. It's easy to come down the hall and get on the phone for four hours, and then do my stuff here. I'll go out and I'll meet people.
Contrast for us, big 24 employees to small what you're doing now. How is that different as far as for your clients? How's that different for your sanity and for the impact that you can make?
I have to say that I love it. With 24 employees, There is a lot of chaos. I had a registration company and a housing company. We booked all the hotel rooms. We were doing all that for Texas Instruments then all of a sudden, the technology goes down. The world is crazy. I found myself working 20 out of 24 hours a day. As much as I loved it and I loved having all the employees. My office building was a house I had renovated on Russell Road. I didn't live there, but we had 5,000 square feet of little chandeliers and French doors.
It looked like somebody's house and everybody had their own little space in there. I loved it, but I saw the neighborhood changing there. It's on the street of the airport here. We were burglarized a couple of times and I was in the building one time. It was scary. You say that you wanted to do it, you did it, you've been there and you've done it. I like what I'm doing now. I don't miss having a lot of employees and I don't miss having all that stress of the overhead and the payroll and everything.
The people that work for me, they're lovely. They appreciate it. I pay them well, take good care of them, we go out, have fun, go to shows, go to dinners and get to do things for other people. We love doing Make-A-Wish because we get to see a little child's life changed for a day and we get to do fun things. I would tell people, "I don't think that bigger is necessarily better."
It's always great to grow your company. I won't ever take that away from it. It would enable me to buy a house, an office building, and do things I always wanted to do. After that's over, it's like, what is it? You want to appreciate your life every day. You want to be able to wake up and do things that you want to do and just breathe.
You want to appreciate your life every day. You want to be able to wake up and do things that you want to do and just breathe.
Click To Tweet
Seems like a lot of people go through that. Start small, build this amazing thing, don't like it, but they're in the middle of the rat race, end up with something smaller and more personable and like that a lot more. How has that affected the people that you connect with? Do you still have as many speakers as you had before?
I do. I have more.
How are you able to keep up with all that?
I put them on my Speaker's Bureau. I'm not in the technology world, even though they're my biggest clients. I started getting Google AdWords and I had never had them before. I hired this great company in New Jersey that has been marketing me. What's happening now is if somebody is looking for a certain speaker or a certain type of entertainment, they're finding me on the internet.
I'm like, "How did you find me?" They're like, "Google." I'm like, "I have to ask you what words you were looking for because I've never in 45 years used Google AdWords." I can't say enough about them. It's been interesting. Everything is a learning lesson. It's a journey. Every day is a different journey. I love doing it and I don't care if it's in a big way or smaller way.
As I said, we had Shaquille O'Neal and Molly Bloom here. I had a small $2,500 speaker and I love them all because I get to put them all to work. It doesn't matter how big it is. You put somebody to work and you were able to maybe change one person's life in that room like you know when you're speaking. Your whole goal is like, if you touch somebody in that room or touch all those people in your room, it's like giving you $1 million.
For sure. If I'm a speaker reading this now, because we have a lot of speakers that listen, what do you see as the key to getting booked?
I think it's all about your subject and your delivery. A lot of people use a moderator because they are not a keynote speaker, but they can speak, but they don't have a whole platform and their presentation. If somebody was going to do speaking, I would say do something that's going to interest people. Attract their attention. They want to be engaged now and they've seen it all. Your why is brilliant. In fact, I saw something on TV that said, "Why?" Did you see that? It was a commercial on TV.
I was thinking about you. I'm like, "Is that his commercial?" It's embracing people here in your heart and emotionally. I was talking about Nick Santonastasso. He's speaking and I had men that were coming up to us crying, like, "I just released. I purged. I did this." He left them with something memorable, and as Maya Angelou said, "It's how you leave them feeling." If you're going to speak, it doesn't matter what you're speaking on, as long as you're speaking from your heart and you know that you can engage and your audience can relate to you.
Not everybody's a college graduate. Some of those people are there and have a set fee and a set job, but they're barely paying their bills and feeding their family and need inspiration. I was one of those people. People work for everything that they have. You can work that hard. I see people that are very wealthy that have lost it. I think that it's so important to be a real person.
When I'm hiring a speaker, I want to feel what they're saying. Somebody called me recently to speak on happiness. What makes you happy? I love that. You go in a room and know you're going to see something positive or educational. Every speaker has something to give and it's very important that your delivery and you're touching your audience.
If I'm a speaker and nobody knows me and I'm trying to get booked, how do I go about getting booked? What advice would you give to them?
I would say that you want to go to every speaker's bureau that you can and get on their bureau. I'm not pompous to say, "Come with me, even though I love you," because I only get a certain amount of jobs. I say, "If you're going to be with me not exclusive and you want to work on getting a lot of bookings, make a flyer." There is a company out of India. They charge like $100 to make these flyers. I'll have to send you a couple. They're amazing. It's a flyer made out of constant contact. It would have your face and maybe you'd have the big Why and the question mark or whatever you put on it and whatever message you're trying to get to your audience.
I do have a girl, Natalie, in Israel. She sends it out. She'll start sending it out. We've sent out to everybody on our list and we'll send out now and then I'll send it down again. Maybe we'll change it up or we'll send it. Sometimes we embed an agent-friendly we'll have you do it. Put an agent-friendly video in there so people can see you and see how you engage with your audience because people want to know that you've spoken somewhere and it's going to be a success when you speak for them.
Having a sizzle reel is important.
Sizzle reel is very important. Professional high res pictures and you can get them without spending a lot of money. If photographers are charging you thousands of dollars for your pictures, call me. I'll give you names. You don't need to spend that money. I want people to spend the least amount of money and make as much as you can.
That's why you've been so successful all these years because I can tell you that not every bureau thinks, acts and helps like you do. It's not the same for everybody. I'm sure you probably already know that.
I do. There are speaker's bureaus and I will call them. I'll say, "I'm interested in so-and-so." Usually, some of them are big speakers. They're like, "Have your client call me. I want to deal with your client direct." I'm like, "I'm your client and you will meet my client after you give me. How much are they? Are they available? No, I'm not giving you that information." It's very cocky. It's not a good way to network business because we all should be working together.
I look at my one of my competitors, Jennifer Lear. She and I work together all the time and she used to work for me. Each agency has something to offer. Diane Goodman, who owned Goodman Speakers. Now she's a speaker's manager. I called her one day and I said, "I don't know how to put this, but I'm in love with your website and my website sucks." She said, "I'd be glad to give you my web guy."
In fact, she came here and we had lunch. She's a lovely person. Some of her speakers are on my website. I have her web guy. It's so important that we mentor each other in this life. A couple of girls called me that opened their little speaker's bureau and I'm like, "Call me. Do you want to put some of my speakers on your bureau? We can work together."
I will tell you another important thing is like everybody has a set. Let's say your rate's $25,000 or $35,000. A lot of times, people call me and they'll say, "We only have $10,000 for a speaker." I will turn around and call a $20,000 speaker and say, "I've had three inquiries this month in Vegas for a $20,000 speaker. Would you like me to submit you or no?"
Not that I ever want to insult anybody, but somebody may not have a job for four months. If I've made you $30,000 for three jobs. I like to think out of the box. I never want to presume anything. I do not take 25% or 30%. I take 20%. Sometimes if the clients don't have the budget, I'll take 10%. To me, it's not always about the money. It's about the relationship.
What's the difference between a speaker bureau and a speaker manager?
The speaker management companies charge you to manage them and to promote them. At least, that's what I've heard from some of my speakers. They've said that they pay thousands of a month to have them submit them or represent them. Speakers Bureau should only take a commission from you if we get you a job and after you've done the job, we get commissioned.
I'm starting like a regular Speakers Bureau because I've been in the entertainment business for so long. It's like, "I need to know where they're staying. Is it a five-star hotel? I need to know they're being picked up at the airport. Is there a coordinator? I need to know they're going to have a sound check." I want to set my speakers and entertainers up for success, not failure. A lot of people just cook it and book it. I'm not a cook and book it person. Everybody wants to make money and be in business, but you have to care. That's why I'm a little bit different.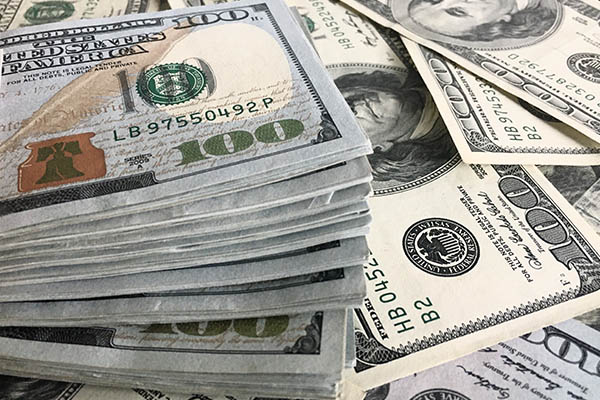 I want to know that you're coming here. I'm taking care of you. I had Molly Bloom here. We had 70-mile-an-hour winds. She was like in the air. As I'm texting her, "I hope you're not upside down. I hope you're okay." She's a wonderful person and a trooper. She came in on those wins. You want to make sure that people are there.
I try to show up at these events. I want to see my speakers if it's within my power and if I don't have ten things going on that day. When I go there, I want to make sure that do they have a ride back to their hotel. Have they been fed? Is there food in their green room for them? I know it sounds silly. These are little tiny important things that mean a difference.
The last question for you is, what's the best piece of advice that you've ever been given or the best piece of advice that you've ever given?
A couple. One of my speakers, Dr. Edith Eger, she's a Holocaust survivor. She told me, "We have to always be survivors, not victims. No matter how bad things get in life, you're a survivor." Another friend of mine, Dr. Anne Manning, told me, "The end is in the beginning. What you see in the beginning is always there in the end." There is my mother who always said, "Be a good person. Don't base your life on things. Be a good person and give back to others." That's how I've lived my life. I have a friend of mine, John Arnos. He raises money for the National Center for Missing and Exploited Children. He jumped out of an airplane to raise money and he turned 90.
You hang around with some fun people. That's for sure.
We are all about having a good time.
Always have been.
Yes, I am. I'm looking forward to seeing you when you come back to Vegas.
I'm going to be there.
You'll call me.
I will call you. I would love to get together if you are around because I'll be there. I'm speaking with Ashley's group then I'll be there for a few more days.
Are you at the M Hotel?
Yes.
I'm around the corner. I'll make time, I promise you. You call me.
If there are people that are reading and want to follow you, learn more about you or see more that's going on in your life, what's the best way for them to connect with you?
My email is Jaki@JakiBaskow.com. Check out our websites, Baskow Talent and Las Vegas Speakers Bureau. We're always looking for new people and I'm looking for people to mentor. If somebody isn't a real professional speaker, I will take time and guide them and tell them where they can go to try to look into it. I think it's important to go to NSA and Toastmasters and all those places where you can learn and people give you positive feedback to help you.
Jaki, thank you so much for taking the time to be here. I'm so glad we finally got to do this. I look forward to seeing you soon.
I'll talk to you soon. Thank you so much for having me on your show.
Important Links
About Jaki Baskow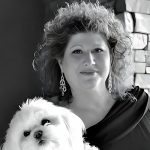 Jaki moved to Las Vegas, NV in 1976 to work at a movie studio, under the creator of BatMan, Bob Crane. After they lost financing, she was talked into opening her own Talent Agency and her new company broke a 25 year long monopoly in the Talent game.
The first commercial Jaki was in charge of casting made $36,000 in royalties – this caught the eye of Mr. Frank Sinatra! Mr. Sinatra requested a meeting with Jaki because he was helping, Marlene Ricci – whom was his opener at the time, acquire an agent. That was the start of her 45 year career working in Las Vegas, where she is one of the top (and preferred) vendors at Ceasar's and The Wynn. Jaki has since produced TV segments, booked stars to take to Italy for the Telegatto, and filled sears for the Oscar's for the last 18 years! She has worked with Stallone, Gene Hackman, Tom Selleck, Kevin Costner, Sharon Stone and so many more!
Discovery Channel also featured Jaki in a tv segment on Casino Diaries where they named her one of the Top Celebrity Star Brokers in the world and named her "Queen of Las Vegas!"